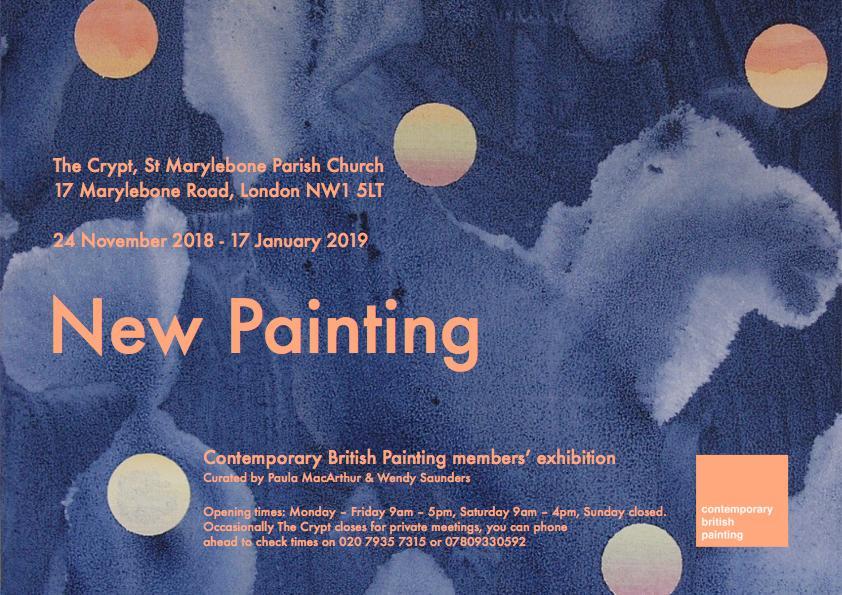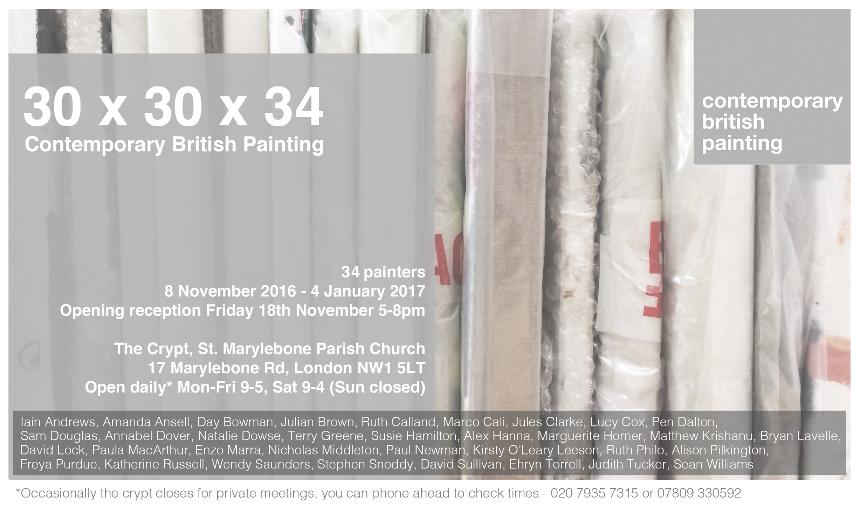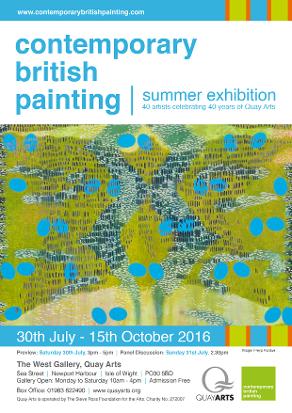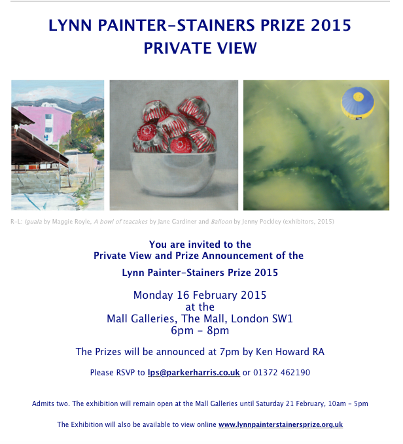 'Place and Landscape Exhibition', Waterfront Gallery, Ipswich: 1st October - 13th November 2014
'Turner - Watercolours from the West - and Modern British Landscapes'

Swindon

Museum and Gallery, 15th October - 14th December
Huddersfield Art Gallery, Princess Alexandra Walk, Huddersfield HD1 2SU, 1st November - 14th March 2015
'@ Paint Britain Exhibition', Ipswich Art School Gallery, 15th November 2014 - 8th March 2015
Madison Museum of Fine Art, USA
NCA14
Norfolk Contemporary Arts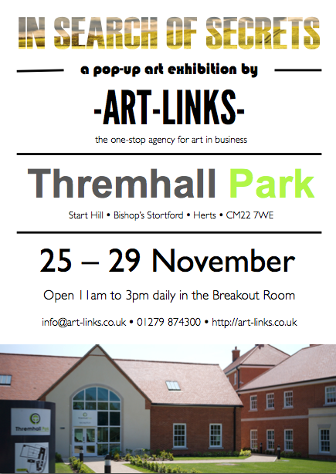 THE ROYAL SOCIETY OF MARINE ARTISTS ANNUAL EXHIBITION
The President, David Howell requests the pleasure of your company at the Private View of the RSMA Annual Exhibition:
Tuesday 15 October 2013, 2pm to 8pm Official opening at 3.30pm by Dan Snow
The sea, harbours and shorelines, racing yachts and traditional craft, historical work, beaches and creeks; in fact anything that involves tidal waters, the RSMA Annual Exhibition is a chance to view and buy work by many of the best marine artists working today.
President's Tour of the exhibition, Tuesday 15 October, 11am
Free, no booking required.
Exhibition open
16 to 27 October
10am to 5pm daily (closes 1pm on final day)
The Mall (near Trafalgar Square) London SW1
Tel: 020 7930 6844
Email: info@mallgalleries.com www.mallgalleries.org.uk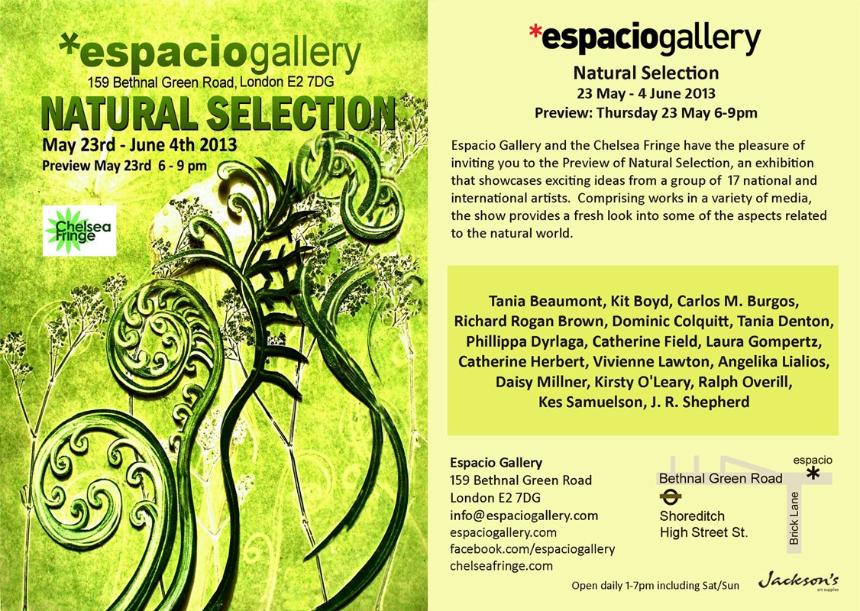 NATURAL SELECTION
A fabulous flight of fancy in conjunction with the Chelsea Fringe - 20 artists showing paintings, original prints, assemblages, sculpture, textiles, - all inspired by organic forms, gardens, flowers, growth, decay........www.chelseafringe.com
THE RED LIGHT GALLERY
6th May - 19th May
Dereham Rd, Norwich (on the jct with Grapes Hill)
This is the inaugural group exhibition of the newly opened gallery
THE STATE OF THE ART
Art Exhibition
"In a class of their own"
The Hobart Gallery, Blickling Hall 18th- 24th of February Open everyday from 10.15am - 5.30pm
Work by a selection of Norfolk's finest Art teachers.
It's time to disprove the saying 'those who can do, those who can't teach'.
Nine local teachers have put aside their report writing and lesson planning,to exhibit a wonderful selection of drawings, paintings and photography.
Please come along to meet all the artists on Sunday 24th February, 3 – 5pm
Kirsty O'leary-leeson, Jamie O'leary-leeson, Kerry Smith, Holly Pearce, Ruth DeNeve, Jim Collin, Stefan Semenczuck, Andy Cairns, Gill Cairns
Sheringham High School, Cromer Academy, Mundesley Infant School, St Andrews, Sprowston Community High School, Norfolk Adult Education
www.stateoftheart.yolasite.com

After The Monet
4th - 9th March 2013, Mon - Fri 9am - 6pm, Sat 11am - 6pm,
The Coningsby Gallery, Tottenham Street, London WIT 4RJ
Private View: Monday 4th March 6.30 - 8.30
'After the Monet' showcases a diverse and stunning selection of both 2 and 3 dimensional artworks from the cream of Britain's most talented emerging and established contemporary artists. The 20 artists all featured in the 2012 series of BBC2's popular art competiton 'Show me the Monet'.
Now at the Coningsby Gallery exhibition many of the successful artists have come together again to present superb examples of their work in 'After the Monet'. Did the critics get it right? Be sure to see the exhibition and meet the artists at 'After the Monet'.
PRESS RELEASE Show Me the Monet x 15 Starts 9 July on BBC2
Television's hottest art competition, Show Me the Monet, presented by Chris Hollins (Watchdog, Food Inspectors, Cash in the Attic), returns for a second series, as artists from across the UK battle it out to secure a spot in a prestigious London art exhibition and sale.
Thousands of applications were received from both professional and amateur artists, and these entries have been whittled down to just over a hundred who will compete for a place in the Show Me the Monet Grand Exhibition and Sale at the Mall Galleries in London. It will be the chance of a lifetime to get their work seen – and bought – by professional art buyers and the public alike. But in order to secure a place, the shortlisted artistic contenders will have to face the 'Hanging Committee' – a panel of judges drawn from some of the art world's toughest critics: Charlotte Mullins, David Lee and Roy Bolton.
In 15 episodes stripped across three weeks, Chris Hollins will follow the progress of the hopeful artists as one after another, they arrive at Eltham Palace - home to the Tudor Court - to present their paintings, sculptures and photography to the Hanging Committee. It could be a day of triumph or disappointment as they face the intense scrutiny and candid, often blunt, critiques of their work. The judges are looking for originality, technical skill and emotional impact, and artists need two 'Yeses' from the panel to get a place at the Mall galleries. For those who get through, we'll then see how their work fares in the exhibition and sale. In an exciting twist, the art will be sold by 'blind bid' and potential buyers will be allowed to bid much higher - or indeed lower - than the reserve price. In their hunt for new art to display at their exhibition, the Hanging Committee will also be putting their reputations on the line. Charlotte Mullins is a contemporary specialist; the author of ten books on art and culture, she has selected works for some of the most prestigious art competitions. Roy Bolton is a fine art dealer of international renown, who has valued and sold works for some of the big name auction houses. David Lee is one of the art world's most outspoken critics. Renowned for his tirades against conceptual art, his pet hate is work that's all explanation and no substance.
It's time to Show Me the Monet.

It was very nervewracking putting my artistic abilities and ego on the line, lets just say it turned out to be a very positive experience, the only thing I'm dreading when it airs is the 'getting to know you' interview with Chris Hollins where I discovered I have no self editing ability!
I do not as yet have the date of which episode I will be appearing in, if you would like me to email you the exact date please email me at kolearyleeson@btinternet.com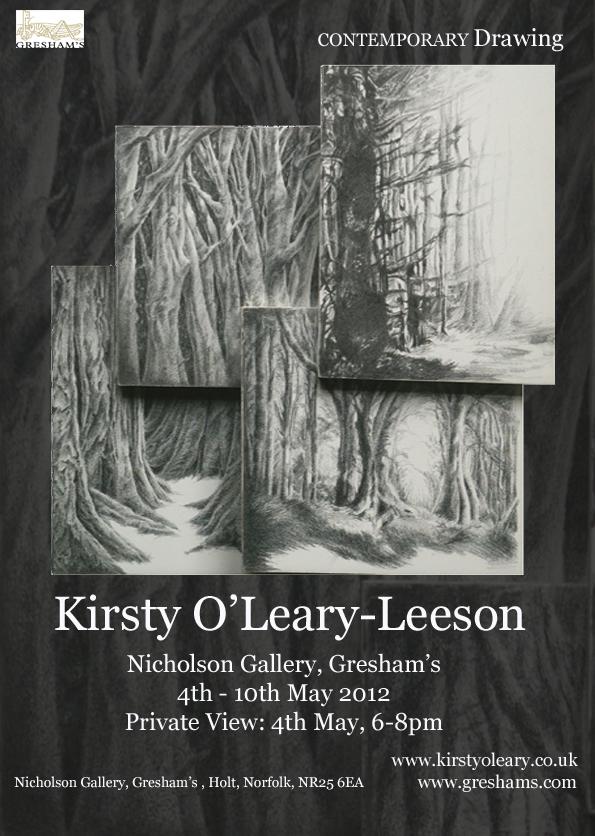 My work was published alongside an article in Scope Magazine http://www.scope-mag.com/issues/2012-1/
If you would like to view a pdf version of the magazine please contact me and I will email it to you.
Artist of the Month : March on Visual Art Trader, www.visualarttrader.co.uk
Open Studio
Cherry Tree Studio
Visitors always very welcome, just call first to make sure I'm in.
Come and discuss contemporary art, metaphors and all the usual nutty sputterings of artists.